Elevator buckets
JET elevator buckets are responsible for the latest technology in the development, design and production.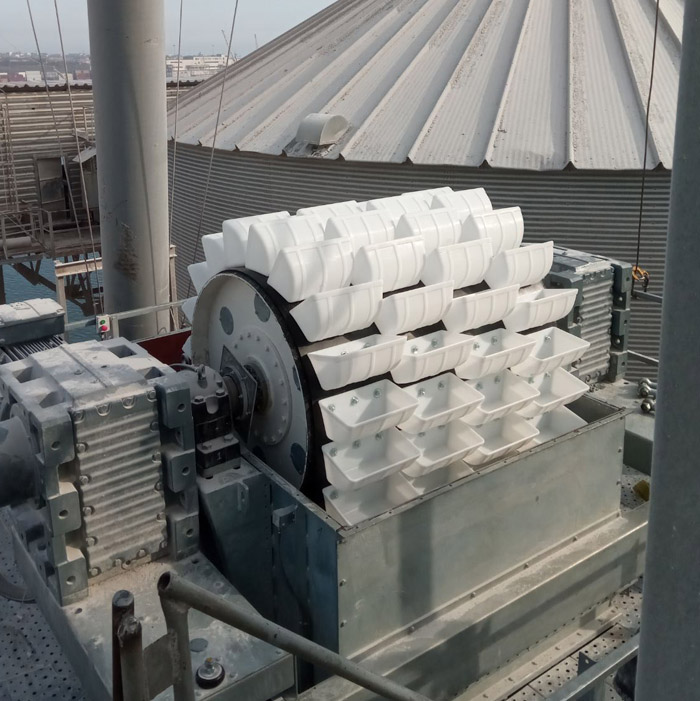 Production takes place at state-of-the-art, fully-automated production facilities which produce uniformly high quality products. The raw materials used in production are sourced from leading European manufacturers.
JET elevator buckets offer excellent in-feed and discharging regardless of the materials to be conveyed – dusty, wet or sticky materials included. And, of course, both filling and emptying are optimal.
Our flexible approach ensures that, at a relatively modest price, we can design and supply buckets to meet your specific needs. In addition to our standard range of pressed steel buckets and injection-moulded plastic buckets, we also offer welded buckets in accordance with the DIN norm or to meet specific customer requirements. We also offer next-day delivery of most standard buckets.
Material
Longevity
Effect
Sticky products
Food Industry
Constant Temperature
Max. temperature
Resistivity
Price
Colour
Density
Application
Steel
180
200
-
7,85
Cereal
Industry
Material
Longevity
Effect
Sticky Products
Food Industry
Constant Temperature
Max. temperature
Restivity
Price
Colour
Density
Application
Stainless Steell AISI304
250
400
-
7,85
Food Industry
Korrosion
Temperature
Material
Longevity
Effect
Sticky Products
Food Industry
Constant Temperature
Max. temperature
Restivity
Price
Colour
Density
Application
Stainless steel AISI316
250
400
-
7,85
Food Industry
High korrosion
Material
Longevity
Effect
Sticky Products
Food Industry
Constant Temperature
Max. temperature
Restivity
Price
Colour
Density
Application
PEHD
70
80
White
0,96
Cereal
Industry
Material
Longevity
Effect
Sticky Products
Food Industry
Constant Temperature
Max. temperature
Restivity
Price
Colour
Density
Application
PA 6
100 - 120
120 - 130
Cream
1,14
Temperature
Density
Sticky
Food Materials
Materiale
Levetid
Indvirkning
Klæbrige produkter
Levnedsmidler
Konstant Temperatur
Max. temperatur
Restivitet
Pris
Farve
Densitet
Applikation
PU
70
80
Green
1,19
Temperature
Sharp
Sticky