Conveyor belts with cleats and
corrugated sidewalls
SBK A/S offers and calculates tailor-made conveyor
belts with cleats and corrugated sidewalls.
We offer
We offer cold and hot vulcanised corrugated sidewalls, cleats and guide profiles, depending on the application.
SBK A/S offers a vertical belt concept (chute) which guarantees gentle and efficient transport of almost any type of bulk material. To eliminate the difficulties often associated with multiple belt changes, we offer a solution which allows the same belt to switch from horizontal to vertical.
We have our own technical department, which ensures that you always get the optimal solution for your transport needs.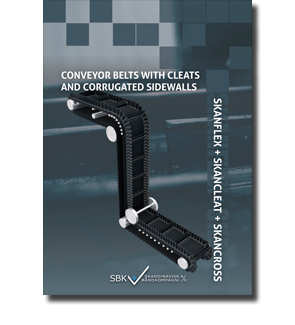 The concept
The concept consists of a cross-car base band with flexible corrugated edges and transverse carriers, which after application form "boxes" on the tape – the size of the boxes depends on the size of the transported material as well as the desired capacity.
Of course, we also offer belts where either only corrugated edges (e.g. weighing bands & dosing bands) or carriers (e.g. potato bands & magneticbelts).
Skanflex corrugated edges, Skancleat carriers and Skancross base belts are produced as standard in black, wear-resistant rubber. On request, we can also offer oil and fat resistant, heat resistant 100-150°C, flame resistant belts.
In addition, corrugated edges and carriers can be offered with dew inserts.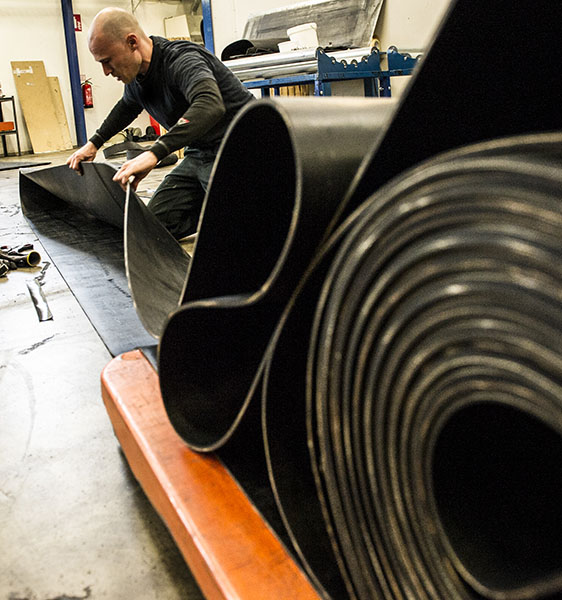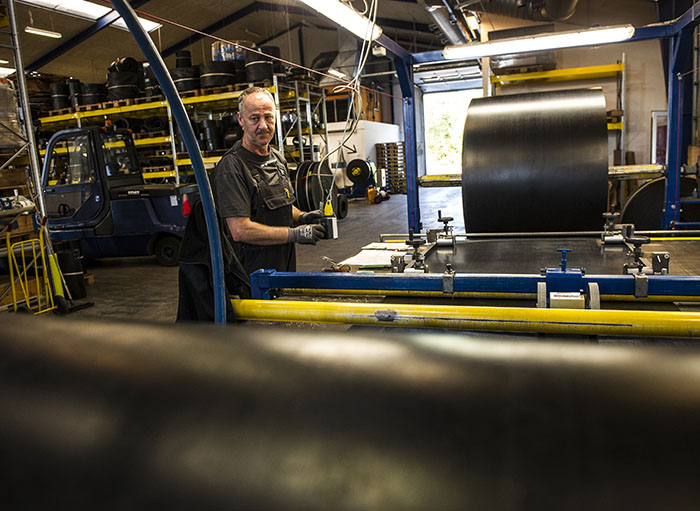 The advantages
of the SBK A/S vertical belt concept are:
• Capacity increased by up to four times compared to a conventional
conveyor belt of the same belt width
• Space-saving solution – the belt can run at an angle of 90 degrees (i.e. vertically)
• Protects material from friction and impact
• Possible to change belt direction without switching to a new belt
• Innumerable combinations of standard belting, corrugated sidewalls and cleats – the sky is the limit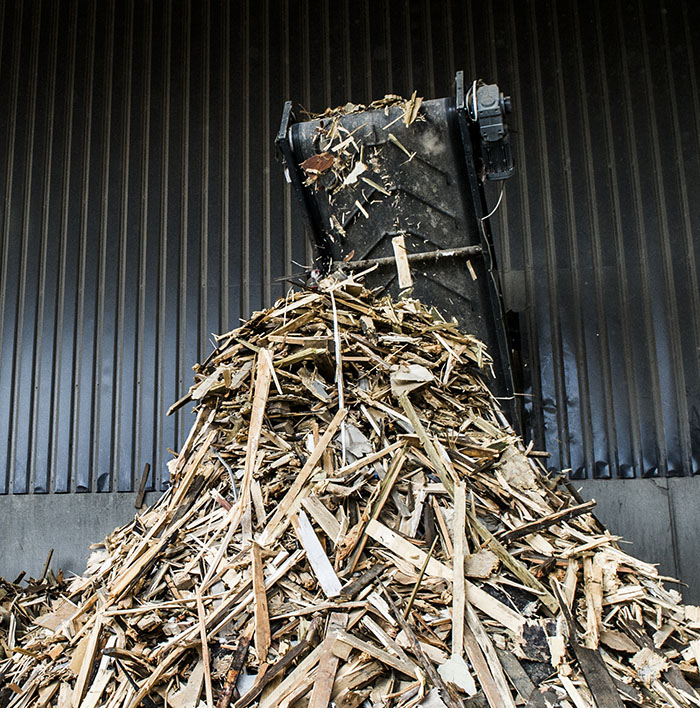 Skancleat Cleats
SKANCLEAT cleats are moulded for strength and rigidity. For use in lighter applications we offer EKT extruded cleats (see table). Cleats from 110 mm can be supplied with textile reinforcement and cleats from 280 mm with steel reinforcement. Cleats from 280 mm can also be supplied as combi-cleats, i.e. the cleat is subdivided into a base/foot and blade.
We offer Skancleat cleats as separate loose profiles and as cold or hot vulcanised elements on the belt (depending on the application). Other sizes and designs, including heavy-duty block cleats, cleats attached to the belt with screws/bolts, etc., are available on request.
We recommend that the cleat is 10-15 mm lower than the corrugated sidewalls.
SKANFLEX CORRUGATED SIDEWALLS
Skanflex corrugated sidewalls are available in heights from 40 to 600 mm. The sidewalls are extremely rigid in the transverse direction, which is significant for direct return support. In combination with lateral flexibility and strong resistance to wear-and-tear, the sidewalls are extremely wear-and impact-resistant, ensuring extended belt service life.
We offer Skanflex corrugated sidewalls as separate loose profiles and as cold or hot vulcanised elements on the belt (depending on the application).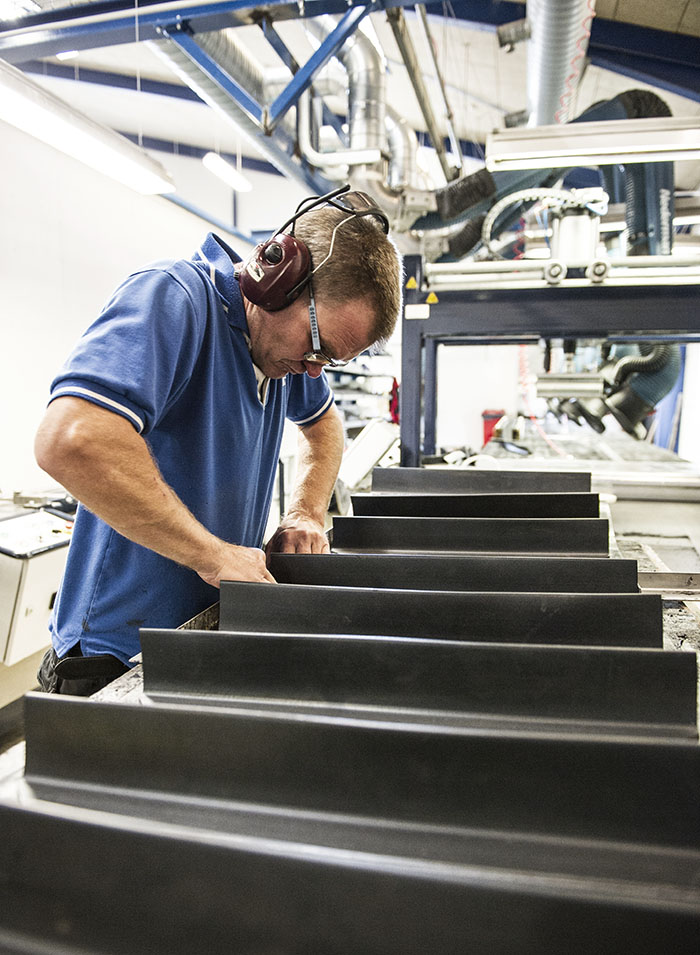 Skancross transverse belts
Skancross transverse conveyor belts are characterized by a very high cross-stability. The transverse properties are achieved by a special band build-up. By default, SBK offers transverse bands with 2 separate, transverse cloths integrated into the cover and running layer of the tape. This means increased and improved cross-stability for hard applications. For light applications, we can offer so-called XEM tapes, where the crosstabile properties (monfiles) are woven into even the dew package.
To withstand very heavy loads (where the rigidity in standard belting is insufficient), we offer a cross-rigid belt with special steel cord insertions in the transverse direction. The density and thickness of the steel cords are calculated in accordance with the specific task. These are named XE-SB belts. These are only available with moulded rubber edges.
For extremely heavy loads and very high elevation, we offer cross-rigid belting with special steel cord insertions in both the warp (lengthwise) and the weft (transverse). These belts are named XE-SC belts and are only available with moulded rubber edges. This type of belting has very low elongation (0.25% in the lengthwise direction). Fitting and assembly of steel cord belts must only be performed by specially trained staff using special tools.